Meet my robot, David.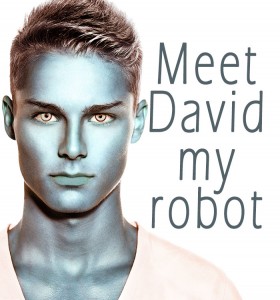 Okay, that's just the way I imagine him to be: Titanium skinned, but otherwise, almost human.
That's the way he speaks: Confident pronunciations in an almost human voice.  I got him from Natural Reader. He was free.  I would have bought the program, but I couldn't find David among the many voices offered in the paid version, and I'd already fallen in love with him. I'm going to have him proof my blog.  All the reds are his assistance. As you see, I often leave out words, because my fingers type fast and think the little words don't matter and they can skip them entirely. In other cases, listening to David makes me realize what I said isn't clear and I need to add and remove stuff.
Natural Reader keeps telling me to upgrade their software, but I'm afraid if I do, David will disappear, and that could be highly detrimental to my editing process. He's my writing partner. I write what I think is a well written sentence, and he lets me know my fingers are idiots, typing only half of what I thought. There are words missing, words out of order, words misspelled, and David finds them all. Well, most of them.
He didn't always. When I first got him, he spoke slowly and had an unnatural robotic tone. He was great for putting me to sleep, but it turns out, nothing gets done when I'm sleeping. So other than waking a few hours later with the pc just about to slide off my lap and commit suicide, he accomplished little, and I didn't appreciate him in the least.
But then I discovered his voice could be sped up. They don't hide this feature. It's right there for anyone to see. I was just too sleepy to notice.
Once I moved David from a speaking speed of five to seven, I fell in love with him. When speaking moderately fast, he sounded almost human. He articulates most words really well. And even the words he can't always guess, because the spelling could be pronounced several ways (such as read and live), I quickly learned to ignore the mispronunciation, knowing by the fact he could pronounce it, albeit in the wrong way, I had the wrong right word. But why, given we have 1 billion words in our language (1,025,109.8 to be exact) are we still using the SAME word for commonly use activities?  You know, if aliens come down, they will deduce we are idiots by such silliness.
But back to the areas David can help with. He's the best at finding dropped words, because unlike yours and my brain, he won't fill in the missing word. He'll read the exact stupid thing you or I say. And if you are awake and listening, you will realize your brilliant prose makes no sense. Then it's up to you to resolve the matter.
Besides missing words, he's good at finding misspelled words. If you pell thet instead of 'spell that'  because your cat has entered the room and is eyeing your lap where the pc currently resides, he will read aloud what you wrote and even your helpful brain withll cough a catball.
So lets list what what David can help you with and what he cannot help you with:
Great help at:
Word Echoes.
repeated words
Missing words
Grammatical errors that can be heard, such as 'discover' vs. 'discovered'
Missing letters in a word (He'll attempt to spell the word instead, if you drop vowels in the middle)
He can even catch missed periods because he runs on without pausing at the end of the sentence.
He'll help you identify an awkward sentence because when he reads it so fast, it will make no sense.
But he cannot help you with:
Dialogue tags,
Commas,
Apostrophes
Semicolons and colons.
Grammatical errors that cannot be heard. (see blue 'lets' above)
Misspellings that would be pronounced the same. (You can normally catch these if you have spell check on and follow along with David.)
Other problems he has:
He reads Word better than a PDF file. If the PDF file has fancy big letters at the beginning of the chapter, David gets very confused. If the first letter is actually a graphics, David ignores it entirely. If it is a pdf created for ereaders, the sentence will be choppy because when David comes to the end of the line, he pauses.
And sometimes he reads a different word than you've written. If I write: "They sat." David will read "They Saturday."
So my handsome robot isn't perfect by a long shot. But he's a great help and I love him immensely.  The free version constantly pauses and asks you to buy it. They paid version doesn't. Also they have lots of British voices. Oddly, I thought I'd like them better, but none could match David.
I'm sure there are other voice programs out there willing to read to you, so shop around and listen until you find a voice you can stand to listen to hear over and over and over. Because with me, before I publish, David reads me my book about twenty times over a two – three month time period. You'll want to love a voice to hear it that often. I also have David read me books from other authors since he can read faster than I can, without eye-strain, leaving me time to write a review. Given I'm trying to publish my current series one book per month, I should be buried, but David helps me stay afloat so I have time to write this blog.
About Liza O'Connor the Author
I presently have 13 novels published. Beginning in July, I will publish the first four books of a Sci-Fi with romance series. The main theme of the stories is Survival, but while surviving, all creatures need love. And to join in on the survival theme, I'm attempting to publish one book per month. Let's see if I can survive that!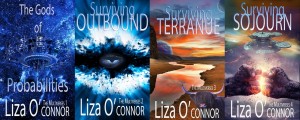 The books are all written and edited. I just need to do final polishing with David my robot. The real challenge is marketing. Sadly, David can't help me with that… Anyone know of a good marketing robot?
FOR MORE INFORMATION ABOUT
LIZA O'CONNOR
Investigate these sites:
Liza's Multiverse Blog    Facebook   Twitter