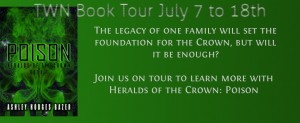 At long last, the final day of the Heralds of the Crown: Poison Tour has arrived. And now, on this last stop on the tour train, The Writing Network team would like to take a moment to show our appreciation and gratitude to the author, and also give Poison the send-off it deserves.
It has been an absolute pleasure to host the ever-talented Ashley Bazer these past two weeks. This tour has certainly been a great deal of fun and we look forward to running more tours with Ashley in the future. So, thank you for having us!
For those of you wanting to read more in the Heralds of the Crown universe, the adventure will continue in Heralds of the Crown: Fusion!
Synopsis:
As part of a sect called the Strages, Marcella is ordered to execute fierce assaults on the Logia—gifted believers in the triune deity known as the Crown. After receiving a vision, she begins to question her allegiance and finds herself seeking counsel from a leader in the Logia faith, whom she was sent to annihilate.
When her mentor, Thaed, uncovers her betrayal, he orders her to do the unthinkable—kill the Logia leader who has become her friend. Her choice will result in either the destruction of the Logia or her own death.
The series of Strages attacks call the Logia to prepare for a major battle. In doing so, Gaultier Lassiter is enlisted. When he discovers an unconscious young woman buried in a snowdrift, his world is turned upside down. She has no memory and no ability to speak—only a strange symbol carved into her chest.
The question of her identity leads to a journey of legendary proportions. Between his own personal struggles with his estranged brother, his unmet potential, and the murder of a close friend, Gaultier fights to cling to his faith. And once the mystery is solved, will Gaultier be prepared to face the truth?
Heed the Crown's Call–pick up your copy of Poison today:
Amazon | Barnes & Noble | Kobo | Smashwords
About the Author:
Ashley Hodges Bazer is often decked out in bellbottoms and grooving out on the lighted dance floor. Okay, not really, but she does have a thing for the BeeGees. She lives in Colorado with her husband and three children.
After earning her bachelor's degree in theatrical stage management from Arizona State University, she went on to work for Disneyland in that capacity. A love affair with books led her to work for several different bookstores.
Currently a producer for an international daily radio program, she's learning to balance working, writing, and momming duties. Her debut novel, Asylum, was traditionally published by WestBow Press in 2012. When she's not writing, she's crocheting or belting out Broadway show tunes. And she's a real duchess!
Connect with Ashley and stay up-to-date with her upcoming projects:
Twitter | Facebook | Pinterest | Google+ | Official Site