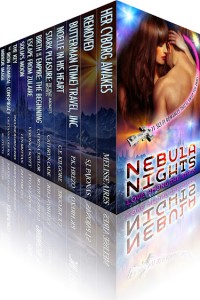 Today marks the start of the Nebula Nights Box Set Blog Tour! It is an absolute delight to be able to feature so many talented authors, 11 to be exact, including our own Catrina Taylor and K.G. Stutts. We wish all of the contributing authors well and we celebrate their success.
More About Nebula Nights:
11 Sci-Fi Romances that'll sweep you away!
If you like your science fiction blazing with adventure and your space opera spiced with romance, this boxed set is for you. From first contact to battles for survival and love on war-torn planets, this collection from bestselling & award winning authors, including Cathryn Cade, Veronica Scott, PK Hrezo and more, will leave you sighing with satisfaction.
Her Cyborg Awakes by Melisse Aires
Her gentle cyborg servant helped her escape violence–but now he's changed into a warrior! Is he safe?
Removed (The Nogiku Series, #1) by SJ Pajonas
In this Japan-inspired tale, one woman's family destiny is key to the survival of the last city on Earth.
Butterman (Time) Travel, Inc. by PK Hrezo
Welcome to Butterman Travel, Inc., where time is always in your hands.
Noelle In His Heart by C.E. Kilgore
Noelle wishes for someone who understands she has love to give but commitments to honor. Stranded on Earth, Steve longs for someone who will understand that his alien heart can love just as deeply.
Stark Pleasure; the Space Magnate's Mistress by Cathryn Cade
Kiri te Nawa survives the perils of the galaxy on her wits … although when it comes to space magnate Logan Stark, she'd rather use her body.
But can she trust him with her secrets?
Birth of an Empire: The Beginning by Catrina Taylor
Three former genetic experiments chose peace over war in a sector that's known only war for a century. As each one squares against their governments they will question the experiences that guide them.
Escape From Zulaire by Veronica Scott
When the planet erupts into war, Sectors Special Forces Captain Tom Deverane must decide whether to save Andi Markriss, the intergalactic businesswoman he loves, or sacrifice her to save Zulaire.
Solia's Moon by Lyn Brittan
SFR Galaxy Award Winner! When Dr. Solia uncovers her company's foray into creating humanoid life, she enlists the help of her handsome ex, Sheriff Sable, in bringing a little justice to the universe.
The Key by Pauline Baird Jones
Her orders are simple: do the impossible and do it yesterday. But this time the impossible might actually be impossible. The only way it could get worse? If her heart starts beating for the wrong guy.
The Iron Admiral: Conspiracy by Greta van der Rol
The Galaxy teeters on the brink of war. Can ex-admiral Saahren persuade the woman who hates him to help him prevent the coming conflagration? And perhaps even love him?
Mirror Image by KG Stutts
Maddie's entire world is turned upside down when she finds out that she is a clone. Now she must work with her counterpart to protect Earth.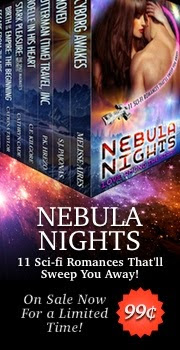 Purchase Links: 
Come back on Monday for Day 2 of the tour! We'll be kicking things off over at KPWrites.net. We hope you'll join us over the next three weeks!
Don't miss a day — Follow along with the tour:
Here!
KPWrites.net
TaraQuan.com
LizaOConnor.com
IWAssociation
AmyBeth Inverness
Reader's Retreat
The Council Blog
Osier Publishing
AmyBeth Inverness
Pandragon Dan
Charles O'Keefe
 Jen Leigh
And back again!