We have been able to bring a wonderful guest author in for an interview today. She has recently released a fabulous book called Tea with the Demon. Watch the IWAssociation.com for a review coming soon. The masterful skill of this first time novelist will grab your attention and have you figuring out her mystery just in time for the answer to change, again. It was generous of this talented woman to make time in her hectic schedule to accommodate our pleas for an interview.
We've kept it short. I'm looking forward to hearing your thoughts.
Author: Isobel Herring.
Book title: Tea with the Demon
Bio: A writer of fantasy, Isobel loves to explore the idea that the non-human can walk among us without us knowing.
Who did you walk beside today?
Tea with the Demon: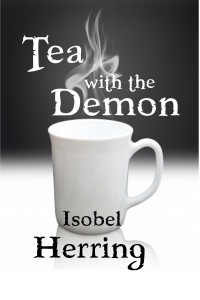 Dez isn't fully human, neither is Angel. He's not often fully clothed either…..
He's not looking for love. He's creating something much more base in nature, and much more fun.
Or, rather, it should be more fun.
Cursed to walk the streets of the sleepy town of Wingate, where nothing ever happens, for the rest of his life, or eternity (whichever is the sooner) Dez is bored. It used to be a challenge, but humanity has become far too easy to manipulate.
Until he meets Helen Sharpe.
*WARNING – This book contains material of an explicit adult nature. NOT FOR UNDER 18s*
Amazon UK: http://www.amazon.co.uk/dp/B009POJCO2
Amazon US: http://www.amazon.com/dp/B009POJCO2
Kobo: http://www.kobobooks.com/ebook/Tea-with-the-Demon/book-AocWTxm8L0iC57_tyoGBxw/page1.html?s=fVmvf_oyc0KG-VfA1qtmOQ&r=2
Smashwords: http://www.smashwords.com/books/view/243889

Interview with the talented Isobel Herring
How long have you been writing?
That really depends on what you mean. I learned to write around the age of four or five, but I started writing stories while at school. However, I've been writing stories for publication since 2005.
What genre do you enjoy reading? Writing? Why?
I read most things, but have a particular love of crime novels. I get drawn into the humanity, the drama and the intricacy of the plot. But I do prefer them to be realistic. Don't you hate it when the realism is blown by a detail that can't be accurate?
When I write I follow flights of fancy and I let my imagination run wild. I wonder what might happen if some of our myths and legends were real.
When was your first book published?
My first book to be published was a short story called Unwanted Gifts.
Do you have many books published? (OR What have you published recently?)
My latest release is also my first full length novel, Tea with the Demon, and that was released during October 2012, very recently.
What tips do you have for new writers?
Write as often as you can, listen to criticism, believe in yourself and grow an emotional skin like a tank with extra armour plating.
Do you publish Ebooks and Print? If so, where can we find each format?
Just ebooks so far but Tea with the Demon will have a print edition in time. Both my books can be found on Amazon, at Kobo books and in other places – in many different ebook formats.
Where can we find your author page?
On facebook my page is here: https://www.facebook.com/IsobelHerring
At my publisher, my section starts here: http://www.osierpublishing.co.uk/isobel-herring/
Do you have a favorite author to read?
Kathy Reichs – Tempe Brennen is fabulous.
What is your favorite color?
Pink.
When do you write?
Anywhere, everywhere, anytime. Even if I don't have a notebook I'll be making notes in my head.