Is your writing style a plotter or a panster?  As we pondered this question we had to laugh! T. L. and I are uniquely different in the way we go about solving any problem not just writing.
I'm the panster – I love the fly by the seat of your pants idea or winging it.  It's my motto in life.  T. L. on the other hand is the voice of reason, the researcher, and the one with a plan! She is the stay the course woman.  I love that about her. She keeps me on track in life as well as in our novels.
T. L. will spend hours plotting the next moves of our characters, she'll dig deep into the historical accuracy of the points we want to include and she'll verify it at least three different ways (that is our rule) to make sure it's really a fact not someone's account of what happened.  She prides herself on making the facts come to life and she's excellent at it. Thank God she can do that because the research or plotting is enough to drive me absolutely into an insane asylum.
I on the other hand am good at taking the information she so painstakingly puts together in uber neat little notes and destroying it in a few sentences in the novel.  My fingers take over the keyboard and write into existence what will essentially cause both of us to think, 'wow that's pretty good.'  Somehow from my brain to my fingers the connection is made and fun things abound complete with historical facts and quotes from the actual person.  Together we make history come alive.  It's amazing.
God knew what he was doing when he put the plotter (T. L.) and the panster (K. R.) together many years before we formed a writing team.  He knew that we were the perfect complement to the other.   She figures out the logistics of a plan and I instinctively help her figure out how to make it happen.  I just dive in and start doing it without a real plan.  I thank God every day for my bestie, my plotter and my co-author.  Everyone should be so blessed.
About My Guests: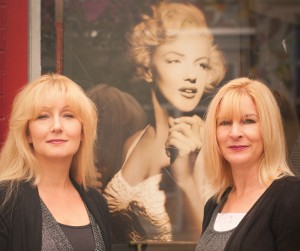 K.R. Hughes
Hughes is an English major from Amarillo, Texas. She now resides near Atlanta, Georgia. She enjoys writing with her co-author T.L. Burns. They are currently working on the sequel to "What She Knew," the fast paced novel that finishes telling the story.
Hughes enjoys working with budding writers and tutoring English. Her passion is for at-risk teens. She volunteers to help teens realize their potential and find their passion. Hughes has two grown children, Justin and Kayti, and two four legged girls, MayZee and Ruthie.
 Find other works by this author in the Historical Romance section, pen name is Kymber Lee, "Treasured Love" is a fun romp written in Regency England in 1811. Lee (Hughes) wrote this novel for her grandmother who is a huge supporter of her work.
T.L. Burns
As Burns' co-author puts it "She is the foremost researcher and historical guru for our novel "What She Knew." The novel was just released March of 2012 and they are busily working on the sequel, "What She Knew Too, The saga continues." You can learn more about them at their website www.whatsheknew.com.
Burns is originally from California (desert region, with mountains), spent nearly 20 years in the panhandle of Texas (again, desert region only without the mountains) and now resides near Atlanta, Georgia. In her words "Trees and flowers everywhere!! Even the weeds are green and lush! I feel like I'm living in a postcard!! And, no wind! The desert regions are sooooo windy."
Burns passion is for at-risk families. She volunteers her time to help the needy, not wih a hand-out but with a hand-up.  She is married and has two grown sons (best sons in the whole world) and one 4 legged son, Binford!